*Go download an issue of Dragonsworn Magazine! I recommend issues four, five and the latest one, number seven.

*An excellent link to AWESOME fan art is Studio Tsang's Art Gallery. He portrays the characters with the essences of their personalities. They are drawn in anime style. Maybe it's because I'm Asian, but I just WUV this link.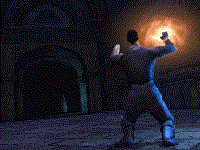 *They developed an award-winning computer game, and music to go w/ it!! Visit the official site at www.wheeloftime.com!! Recently, they released 3 new screen shots (© 1999 Legend Entertainment) that I made into this animated gif on the right. They also have a trailer-movie for you to download, and quoo mp3s!! Might I mention that they also have a quoo Discussion Forum which I visit nearly every day. Just in case you wanted to know, my nickname is "theBlackRose". =):
*The WoT Stick Figure Gallery is a quoo place to go as well. Itz hilarious!
*Listen to *almost* full, *slightly* abridged audiobooks of "The Fires of Heaven", the 5th book, "Lord of Chaos", the sixth book, and "A Crown of Swords", the 7th book, for free at http://www.broadcast.com/books/SciFi/!!
*You can also read some sample chapters directly from Tor Books!!!

Lord of Chaos


A Crown of Swords


The Path of Daggers!!!


Strike At Shayol Ghoul